Total Solution for Plastic Packaging Bags
In today's international market, Chovyting is capable of providing customers with an total solution for making plastic packaging bags. Our products including plastic granulator, film blowing machine, printing machine, bag making machine and more have been well sold in Europe, Middle East, Africa, South America, etc.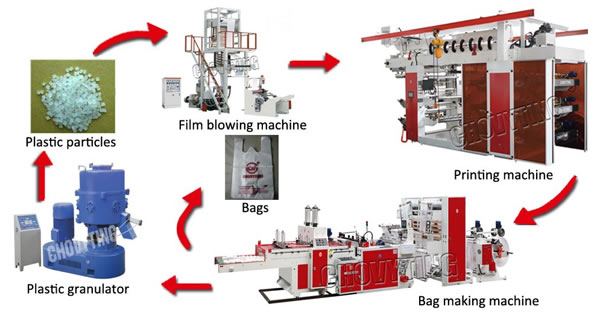 According to customers' demands, we can offer them a complete set of packaging bag making solutions from plastic masterbatch making to batch production of final bags. We can help them with effective resources integration and enable them to stand out from their counterparts in this industry.
Bag Sample that our equipment makes:
Patch Handle Carrier Bag (Equipment model: CW800NJT)
What We Can Do
Nowadays, packaging bag that can be seen everywhere has become an indispensable object in people's daily life. It is made of a variety of materials including PP or PE, non woven fabrics, composite materials, etc. No matter in which country, people have enormous demands for packaging bags.
Chovyting can offer high quality production equipment to packaging bag manufacturers. Our bag making machine is available in various types which can make packaging bags of different materials and different kinds.
1. According to the kinds of bags, Chovyting bag making machine can produce:
Patch handle carrier bag
Soft carrier bag
Die-cut bag
Flat bag
Chuck bag
Heavy packaging bag
2. According to applications, the bags that Chovyting bag machine can make include:
3. According to bag structure, the bags that our bag making machines can produce are divided into:
Bottom seal bag
Two side seal bag
Middle seal bag
Three-side seal bag
Four-side seal bag
No-side seal bag
Stand up bag
4. According to bag materials, our bag making machine can help you produce bag of following materials:
PP
BOPP
PE
HDPE
LDPE
Composite